Habersham Outdoor Candle
04/24/2019 at 16:50 pm
Learn more about our perfect outdoor candle that keeps bugs away but leaves behind a wonderful aroma!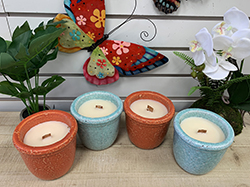 Add a lovely touch to your outdoor space with our Habersham Citronella Outdoor Candles.
We currently carry two scents of these amazing candles: Oud Vanilla and Ocean Waves.
Citronella helps keep the mosquitos at bay, which is vital during these summer months!
For those who don't like the smell of citronella, these candles are perfect for you! The added fragrances helps reduce the smell of citronella,
leaving the area pest free and smelling of vanilla or coconut!
Each candle is hand poured in the United States using a soy wax mix in a durable 5" colored ceramic pot, adding a decorative touch to your outside area.
The wicks are wooden, which creates a lovely and relaxing crackling noise when lit. Not only does having a wood wick offer a relaxing feel,
it also offers longer burn time giving you more time to enjoy a mosquito free zone!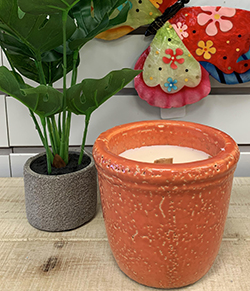 "Fragrance notes: smooth sandalwood infused with soft vanilla notes layered with fragrant lavender, oak moss and fresh citronella" Poured into a beautiful orange ceramic pot, leaving an elegant aroma when burned.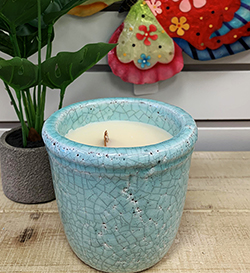 "Fragrance notes: swirls of creamy vanilla and coconut water blended with island fruit nectars over crushed citronella leaves" poured into a lovely blue ceramic pot, leaving an island aroma behind when burned.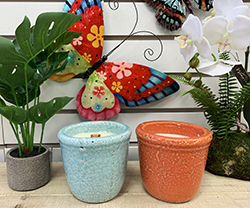 If you're interested in these candle, Habersham also makes wonderful odor neuteralizing wax bowls.
We also carry a lot of other Habersham candles, you can find them by clicking the link below!
https://www.wilfordandlee.com/brand/HABERSHAM-CANDLE-CO/