Local Florida Vendors
As a local Florida company, Wilford & Lee loves to support other suppliers and manufacturers in Florida. This month we want to feature three brands from Florida that you can find in our stores and online HERE.
Garden Route
Garden Route is a local family owned business founded by Chantel in Fort Myers, Florida. They specialize in fragrances and finding the perfect combination of dried pieces to make wonderful potpourri and home spray.
How it all began…
Growing up on a flower farm in an area known as the Garden Route in the Western Cape, South Africa, makes choosing the right natural botanicals for her potpourris and scents second nature. It was there that her love for everything natural and beautiful was cultivated. Their vibrant botanical designs remind her of the unspoiled wilderness, glistening lakes and miles of sandy beaches. The exquisite delicacy of an abundance of indigenous flora and fauna have been an inspiration to her throughout her life.
More than two decades ago, her career as a Physical Therapist offered her the priceless opportunity to work and travel in the USA. She was exposed to a new world of breathtaking scenery and plants that never fails to impress those who visit. It was here that she met her husband. Her desire to stay home with their children and focus on raising their family was the catalyst for starting her own business.
She began importing decorative dried fruits and foliage from the Western Cape and soon her products were welcomed into the designs of just about every potpourri manufacturing company in the USA.
Eventually, she was encouraged by customers and friends to design her own "potpourri" line. She wanted to offer a line of products to home décor and gift customers who wanted more than potpourri… a product that was both aesthetically pleasing and delicately fragranced. The response was greater than she could ever have imagined.
A lot has changed since then (She has moved out of the kids' playroom above the garage and is now operating out of a multisite facility), but she continues to craft each of her products by hand. With a commitment to Mother Earth, her products are all natural or made of recyclable materials. Her fragrance oils are made with essential oils to provide strong, natural scents to be enjoyed in any setting.

Shop all our Garden Route collections HERE
Pure Candle Company
Pure Candle Company is a local family owned business founded in Bradenton, Florida. They specialize in candles made from 100% natural soy wax in real coconut shells.
How it all began…
Pure Candle Company originated from and was founded by then 9-year-old Hunter. One day he was making scented paper in Science class and his teacher told his parents that he was fixated with the idea of producing and selling the paper to his friends. So rather than squash his entrepreneurial dream they decided to help him pursue it. After a few years of research, product development and a little encouragement to think "bigger" than selling scented paper to grade school kids, the idea of Pure was born.
Coconut Key Lime Plumeria Mango Pina Colada

Holiday Citrus Breeze Ocean Mist Beach
Shop all the Pure Coconut Candle Scents HERE
Jaco of America
Jaco of America is a local family owned business founded in 1993 by Irma in Lake Mary, Florida. They produce tropical and nautical themed decor and their newest addition are window clings.

How it all began...
Their love of all things Florida caused Irma and her husband PJ to make the move from Connecticut to Florida and start Jaco of America. They are both avid scuba divers and the sea and all the beauty in it inspired them to bring coastal designs to life in their products. In each of their window clings a different unique design conveys their passion for the ocean. They use local artists and graphic designers for their pieces. Jaco empowers the local population by working within the community to source vinyl and etch local designs into their window clings.
We know that many people suffer from bruises when they collide with their sliding doors and they offer a sophisticated and fun coastal solution to that problem with their window clings.
Without a window cling, you're bound to bump into your sliding door!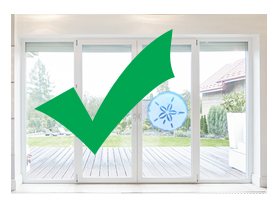 But try one of our new local designs and decorate while saving yourself from bruises!
Choose from two different styles with many different designs. You can see all of them HERE
Style 1

Style 2
Shop all of Jaco's Window Clings HERE