Which LED Candle is the right one for you?
03/12/2015 at 09:35 am
Wilford & Lee is a one stop shop for flameless motion LED candles. We've been experts in traditional candles for years and that expertise has spread to LED candles. It's exciting to see technology do a great job of mimicking flames so you can decorate a room with candles and have light without the smoke or fire. We have many sizes and styles of Flameless LED candles, all of which are available in our stores or online here. The variety is incredible! We have wax LED candles for indoors, plastic LED candles for outdoors, and scented or unscented LED candles. One of the best aspects of our LED candles is that most have a built in timer function so you can set it and not worry if you forget it.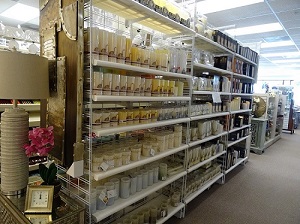 Mirage LED Candles do a great job of mimicking a real flame, but their best feature is their amazing battery life. They have the longest lasting LED Flame of any of the indoor LED Candles with over 650 hours of battery life.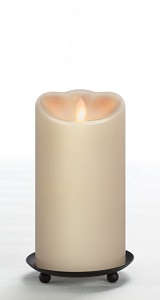 The most economical of the flameless motion LED Candle is Motion Flame. These come in many different sizes and can even be purchased in a set of 2 or 3. They still have a built in timer and over 150 hours of battery life.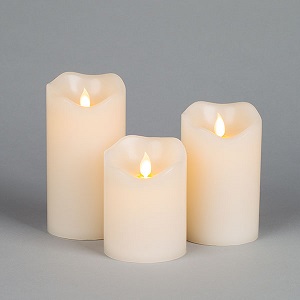 The highest quality is Torchier by Bethlehem. With patented Moving Flame technology they are able to mimic the look & movement of real candle light. These great LED Candles can easily become the perfect centerpiece and light up the room. They come in wax for indoor use or plastic for outdoor use. The indoor LED Candles can either be vanilla scented or unscented, The indoor ones have over 500 hours in battery life and the outdoor ones have over 720 hours of battery life. That's over 30 days of continuous light!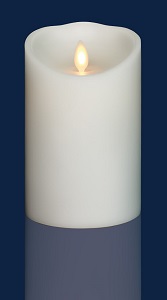 Typically a limitation of flameless motion LED candles is that they are only realistic from one side, but not anymore. Solare 3D offers something that none of the other brands do, a 3D LED flame. This is the first LED Candle of its kind and we have it here at Wilford & Lee. This fantastic piece is perfect for a table display with a LED flame viewable from all sides.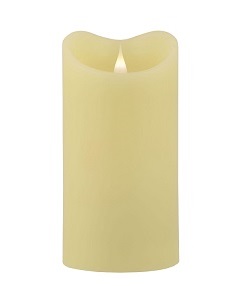 Wilford & Lee Home Accents has a huge selection of LED Candles to meet all of your decorating needs. If you want to add light to a room, but don't want to deal with a real flame try an LED candle. Don't forget to check out our selection fo LED Candles in store or online here.